Lawnscience
Are you looking for a REAL business opportunity?
Not a "get rich quick" scheme, but one where hard work is rewarding?
If your answer is YES, a Lawnscience franchise might be the opportunity you are looking for!
We offer a genuine business opportunity where, with hard work and a committee franchise partner, you can build a profitable business and enjoy:
A business you can run from home, maximising profits and also removing the daily trek into work
Work where you want, when you want
No cap on earnings, you get out what you put in.
High profit margins
Year round business
Growing market
Regular repeat business
Healthy working environment
Great lifestyle business
Economically resilient business
What Is The Lawn Care Business?
Lawnscience is a van based business providing year round treatments to customers' lawns.
These treatments can range from fertilisation and weed control to more cultural services such as scarification, seeding, top-dressing and aeration, to name just a few of the extensive range of additional services.
The great advantage of this type of business is its reoccurring revenue, as the treatment cycles continue year after year. We have clients whose lawns we have been treating since our company started 15 years ago.
What Is The Potential For Your Business?
There are over 23 million homes with gardens in the UK and this number is constantly growing. People want quality lawns and a great many are willing and able to pay for quality lawn care.
Your territory will have the potential for you to run a 10 van business, however the size of business you choose to run is your decision. Single van or multi van the lawn care business provides a great opportunity for you to build your own profitable business. Lawn care professionals can invoice over £600 per day.
What Type Of People Do Well In This Business?
Our business is a service business. We recruit and maintain our customer base by providing superb service, so naturally people with excellent interpersonal skills who strive to provide great service make great Lawnscience business owners.
Experience of lawn care or any gardening skills are not necessary as we provide comprehensive training in all aspects of starting, running and managing the business.
Our current successful franchisees come from all walks of life; bankers, retailers, building, distribution and I.T. to name just a few.
How Easy Is It To Start A Lawn Business?
Starting your lawn care business could not be easier. Our comprehensive training will equip you with all the technical and practical knowledge and experience needed to enable you to start and run your own business.
We will take care of the launch of your business for you, ensuring that you new business is promoted in your local area.
As your business grows we will be there to support you all the way.
How Much Can I Earn?
Your earnings will vary depending on the work life balance you select for yourself and the size of business you want to run, either single van or multi-van. We can indicate your earning potential after we understand how you want to run and develop your business.
Today we have successful franchisees who now have a better life style than they had when working and at the same time earn more.
What Do Other Lawn Science Franchisees Say?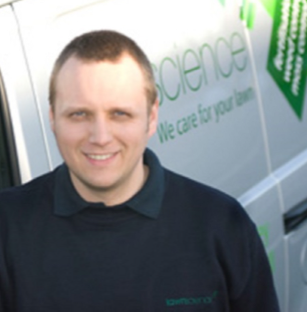 The nice thing with your own business is that you are in control of your success and your future. Working for yourself is safer than working for somebody else, as you are in control. Most customers will contact you. In my experience most of my customers say yes, straight away.
There is no hard sell required. If you are committed, do what you have been shown to do, put in the effort, there is no reason why you won't be successful.
- Bob Pullin (Bristol) Franchisee since 2008
I took the decision to upgrade my business to a multi-van operation a year ago recruiting my first employee. Now my main area of focus is marketing and growing the business.
I can see me recruiting another employee within the next twelve months. I now own a business where I earn more than I did when employed, but with the advantage that I now have a work life balance and more time to spend with my growing family. I've never looked back.
- Scott Harrison (North Worc) Franchisee since 2010
If you would like to find out more about the Lawn Science franchise, please call 01908 534057
Head Office:
Church House 3 Stratford Road
Franchise Enquiry Form
Franchise Matching Service
Featured local franchises...
---
The inclusion of any article or advert does not constitute any form of endorsement or approval by Franchiseek.com. Whilst we make every effort to ensure advertisements and articles are correct, Franchiseek.com, will not be held responsible for errors or omissions. We reserve the right to refuse any advertisement or article which we consider unsuitable.
---