Really Awesome Coffee

Make Money, Have Fun!
Are you looking for healthy work-life balance?

Really Awesome Coffee is the UK's leading mobile coffee franchise, serving gourmet hot drinks and quality foodstuffs to customers at local businesses and events from our unique mobile cafes. With over 1.7bn cups of coffee sold each year in the UK, the coffee market is currently one of the most lucrative industries to be a part of.
Our proven business model allows franchise partners to take the traditional high street coffee shop direct to the customers wherever they are! Franchisees typically enjoy a healthy work-life balance working Monday to Friday delivering fresh coffee in a sociable, stress-free environment with the option of additional weekend work for increased income.

Our Fast-Track Training & Launch Program is typically spread over 4-6 weeks and is designed to accelerate your business growth and provide you with the necessary skills, knowledge and information to ensure your franchise gets off the best possible start. Backed up with an assisted business launch, we will cover everything from professional barista training to bookkeeping, sales & customer service to general business management. There is no need to have prior experience running a business or in the hospitality industry as our training and ongoing support will provide you with all the skills and knowledge required to run a successful mobile coffee business.

The Fast-Track Training & Launch Program is a fully accommodated training plan consisting of:
Preliminary Head Office training – During this week the training will focus on how to research and build your daily coffee route and you will also undertake your professional barista training at our in-house training centre, ensuring you are fully equipped with the skills and knowledge to be able to serve your customers great tasting coffee.
Supervised preparation – The preparation phase is typically between 2 and 6 weeks depending on your personal circumstances and requirements. You will be undertaking guided research and approving local suppliers as well as attending exploration days with one or more of our existing franchise partners.
Final Head Office training – This week will is focused on building both your practical and business skills. You will receive comprehensive training in marketing & social media, bookkeeping, IT systems & software, HACCP, Health & Safety, Safe Food Handling and more. You will also undertake advanced barista training as we start applying your new skills to real life scenarios.
Assisted business launch – Your launch will be based in your area with a member of our specialised launch team who will supervise and assist the start-up and development of your daily coffee route. They will be on hand to help fast-track your franchise by guiding and offering expert knowledge on how to best conduct your business for success. With a wealth of experience our launch team will ensure that you have all the necessary information, skills and knowledge to hit-the-ground-running.

Our unique vans come fully kitted with state of the art equipment that allows you to work more efficiently, saving you time and most importantly money. In comparison to other generator powered coffee vans our unique power system can save you over £2,500 per year. In addition to the essentials (commercial espresso machine, large display fridge, heated pie cabinet etc), our van comes with a number of unique features which make it stand out from the rest: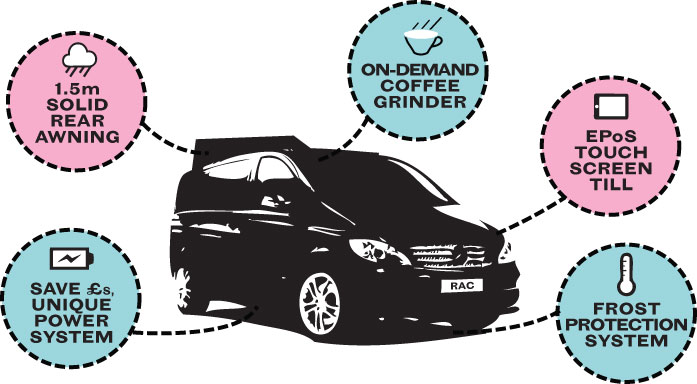 We also make use of the latest technology to help you develop your business through our EPoS Touch Screen Till System. This invaluable financial, business planning and time saving tool makes it easy for you to monitor accurate sales, produce detailed site and product specific reports, process card payments and take care of VAT requirements for your accountant.

Your Really Awesome Coffee franchise package is only £19,950+VAT, however there are a number of investment options available and an initial investment of just £18,000 is all that is required to get started with your new mobile coffee business. This includes our Fast-Track Training & Launch Program plus a premium start up pack worth over £5,000. Our monthly on-going fees are extremely low at just £69 per week. You will also require a Really Awesome Coffee van with finance available over 3, 4 or 5 year terms (subject to approval).
Cost saving benefits include:>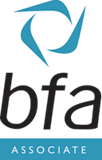 Save ££££'s in fees compared to other coffee related franchises
Save ££££'s in coffee & consumables compared to other coffee related franchises
Save ££££'s in fuel with our unique power system
Low start up costs
Low on-going fees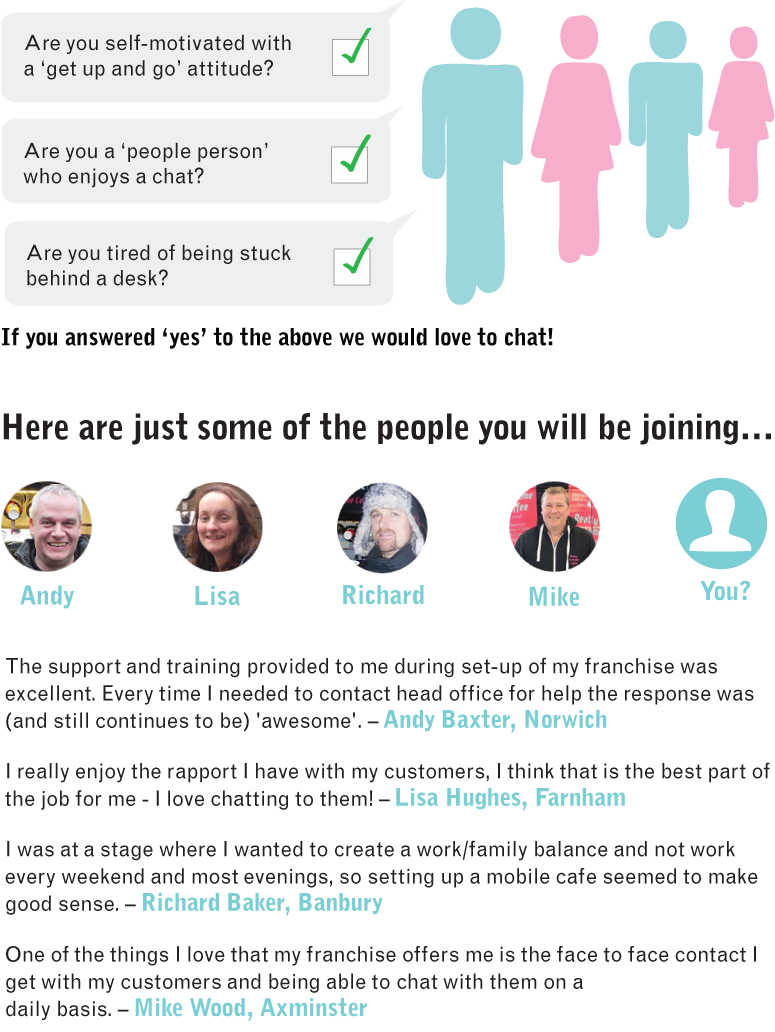 If you would like to find out more about this exciting Franchise Opportunity, simply fill out the contact form below.
Head Office:
Unit 9, Hornchurch Close Ind. Estate
Franchise Enquiry Form
Franchise Matching Service
Featured local franchises...
---
The inclusion of any article or advert does not constitute any form of endorsement or approval by Franchiseek.com. Whilst we make every effort to ensure advertisements and articles are correct, Franchiseek.com, will not be held responsible for errors or omissions. We reserve the right to refuse any advertisement or article which we consider unsuitable.
---